Even though there have been no posts, there has been some progress.  I can actually see the floors in both studios!  The HUGE pile of boxes is GONE.  I wish I could say that every thing that was packed away in those boxes has actually found a good (and final) landing spot.  But, so far, that's not happening.  All of my cookies have been truly tossed.
What used to hold my stuff, no longer does!  My china closet is actually in a real dining room…good for nothing at the moment, it's not even holding dishes.  It is too long of a trek from the studio, anyway to use it to store the beads, lace, trims, binders, and books it used to hold…That was one VERY useful piece of furniture!  It might actually be re-purposed for its original one…imagine that.  I also "lost" two of my tables and an armoire; I may have acquired a trunk…and a bookcase…but, nothing seems to be going easily in the "organization" effort.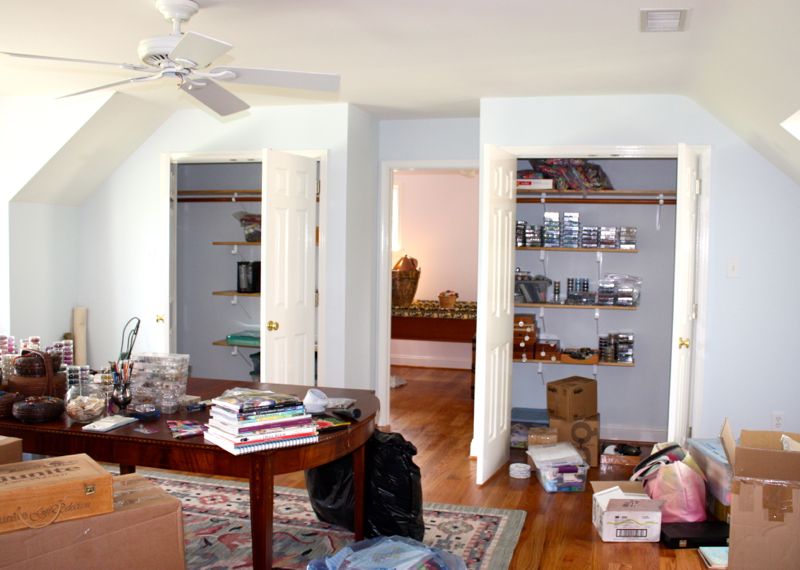 I finally stripped the old varnish off my mahogany "sewing" table: its beautiful inlay work had been hidden by all the dings and chips in the finish.   I wanted to do that for years and knew I would never get to it once it was back in action).  It turned out great!  Feeling sort of smug about that one.  I have to cut off a few inches from the top of my design wall panels…sure going to miss those…but its wood support is in place…waiting.   "Claimed" a great rug for the floor…one of our last purchases from the Elephant's Trunk.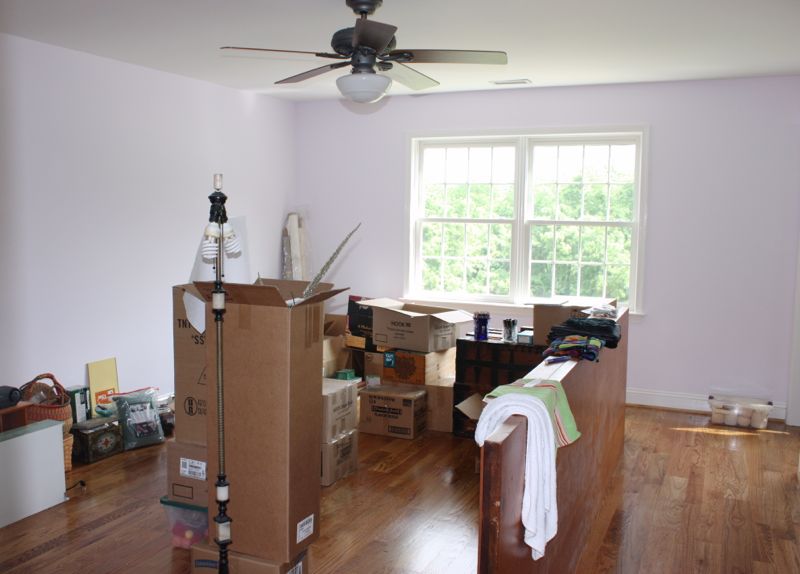 The other room is not faring so well.  Basically, I plan to do everything except sew in there. Lots of manpower got the huge (10 feet long!!!) table around tight corners and up the stairs.  (John made it for me years ago; the top, salvaged from an old drafting shop.  In the old house, it was doing basement project duty.)  I am truly hoping it will work upstairs this time.  But, so far, I just keep unpacking boxes in there, trying to sort things into "common" piles.
To best use all of this space, and, especially the closets that I do have, my fabric has ended up being in the "paper/bead" studio closet and the beads and art supplies, in the closets in the other room.  It is a little mind-bending at the moment, as I try to get it all organized.  But, who knows, maybe there will be more "cross-pollinization" in my future work because of it.  I know it is all looking very fresh.