No one who knows me well would describe me as an adventurous traveller.  But, once I get "on the road", I truly enjoy seeing new things in new places.  I am probably more of a voyeur than a tourist.
Kate and I just got back from a week in Amsterdam.  In spite of all my worries about how we would find each other in the airport (arriving at different times, different airlines, getting through customs, no international data on my phone…how in the world did people do this?) she met me at the arrivals gate (both of us on overnight flights: she, from San Francisco; me, from Philadelphia) with a cup of coffee in hand!  It had been made just the way I like it (some cream, a bit of chocolate, and hot)…a little charm goes a long way in Amsterdam, apparently!
A week in Amsterdam.  Free from all that we had left behind.  A guidebook, but no plans, no "must sees".  But, be forewarned:  one needs to know that Kate and I once spent more than a week in Paris…and didn't go to a SINGLE museum…not one, except, the Pompidou, and I am not sure for most, that that really counts…
In no particular order, here are a few highlights of our trip (with commentary)…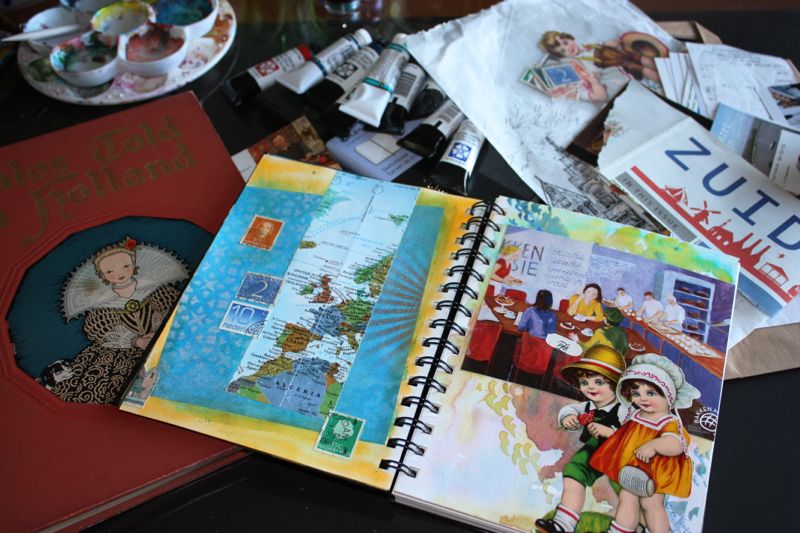 In a leap of "whatever", we both packed watercolors and brushes, thinking that we would paint atmospheric masterpieces…that didn't quite work out.  The weather was a bit chilly, sometimes rainy.  We never found a bench to sit on…and, truth be told, neither of us really wanted to sit in a cafe and paint.  It truly seemed a bit rude to do so.  Most of the cafes and bakeries we stopped in were small, obviously run by the owners who were right there, on site…busy, busy places (not sure anyone in Amsterdam actually eats dinner "at home").  In the end, I did pull out my "stuff" in the hotel room and played around a bit with it (or whatever I had acquired in our daily forays out)…am thinking that now that I am home, I will do more.  Does that count?
For someone who loves wonderfully old, somewhat quirky architecture, Amsterdam was a real treat.  Add to that, lovely Art Nouveau tiles in doorways, intriguing ironwork gracing windows, doors, and gates, curvy Baroque trim, beautiful old windows and charming old doors…cobblestone streets, flowers everywhere (it IS October, right?) …total eye candy…loved it.  Couldn't get enough.
Saw this cauliflower on the street  (bet Dutch kids play with their food)…We did get out of the city.  Took the train…wonderfully convenient, efficient, and quiet…passed through broad expanses of green, green fields, many of which are certainly full of flowers in the spring.  Each, connected to one another, by waterways and bike paths.  Think one could go do grocery shopping "in town" by boat or bike…
One of our forays out of Amsterdam was to Den Hague…in search of the"world famous" street market…and the Escher museum.  Think we found the "wrong" street market (though I did buy a few plastic doilies that will make great stencils), but the Escher museum, which we did find, was a total treat.  He did wonderfully detailed woodcuts and lithographs of Italian hill towns early in his career…exquisite, precise, with black blacks and crisp lines and intriguing perspectives.  One could see how he got from there to his later work, but Kate and I both loved his "old" stuff.  The museum was very small, in a "house" lived in at one time by one of the Dutch royal family…art, plus…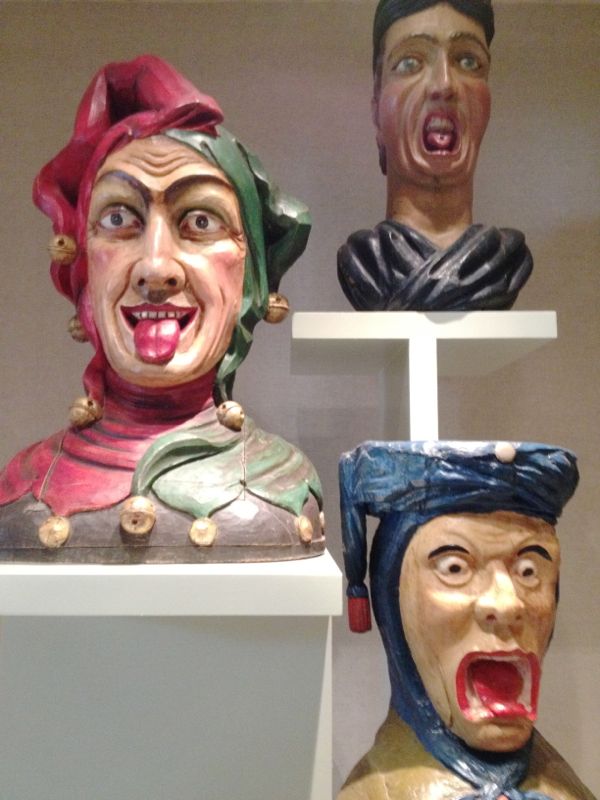 By chance, we wandered into the highlight of our trip…gasp! a museum: the Tropenmuseum.  If you get to Amsterdam, don't miss it.  For some reason, neither of our guidebooks singled it out as "THE place to see" in Amsterdam, and yet, only by seeing it could a visitor get a real sense of the expansive impact that the Dutch traders had on the rest of the world at the time, and beyond.  It holds a remarkable collection of artifacts from all of the Dutch colonies…beautifully curated, originally presented…totally engaging.  If we had had another day, we would have gone back, and probably, back again…
Early in the week, as we were still contemplating visiting museums versus just wandering the streets to see what we might happen upon, and, with the Rijks museum just across the street, what caught our attention was this shop window display.  The shop was closed…but a few days later, we went back.  Kate tried on almost everything on the mannikin…and bought the coat! and the shawl!…decided the tulle skirt was a bit over the top…but lovely.
We had fun.  I think we "saw" Amsterdam…
Travel is like this bit of light that shines on what you think you "know".  It gives you a new point of view…see, there it is…a fresh look…