I am truly into it now.  That might be a somewhat optimistic view, given the over three thousand pieces in the finished quilt.  I probably have two thousand five hundred to go.  What you see above are just a few of the tiny pieces used for the FIRST row of stars and diamonds…
The process starts with a simple center of five diamonds.  Mine are cut from finely woven ikat cottons woven in Indonesia.  I have "embraced" the variations in the patterns, figuring they will only add to the quilt's "charm".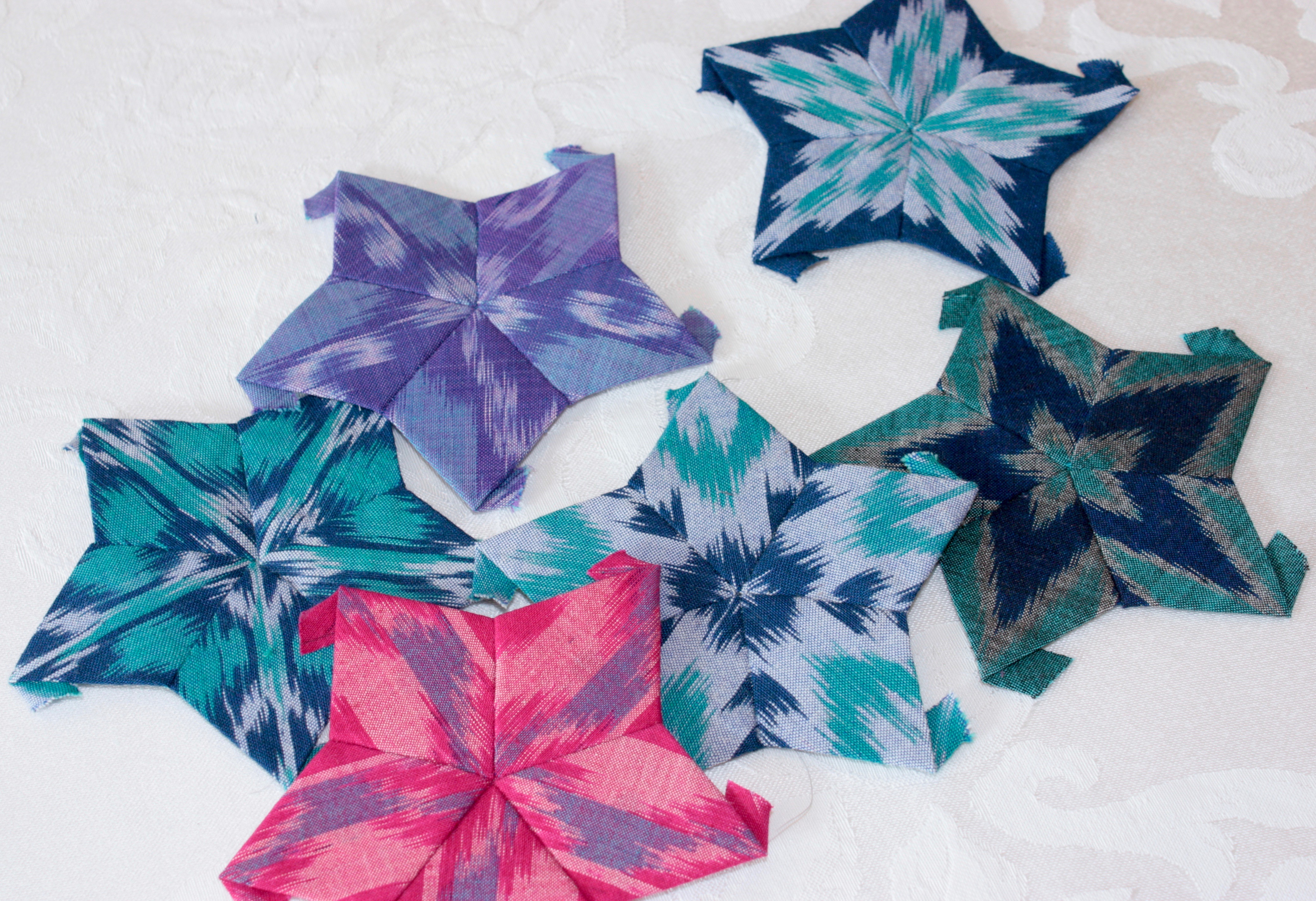 I have made many more of these than I will need…more on that later.  The next round are the elongated diamonds.  Originally, I thought to make them all with a pattern on a black ground.
But, as I started to figure out what I might do for the next round, the dark centers began to look too much alike…so I began "branching out" with some color (a slippery slope).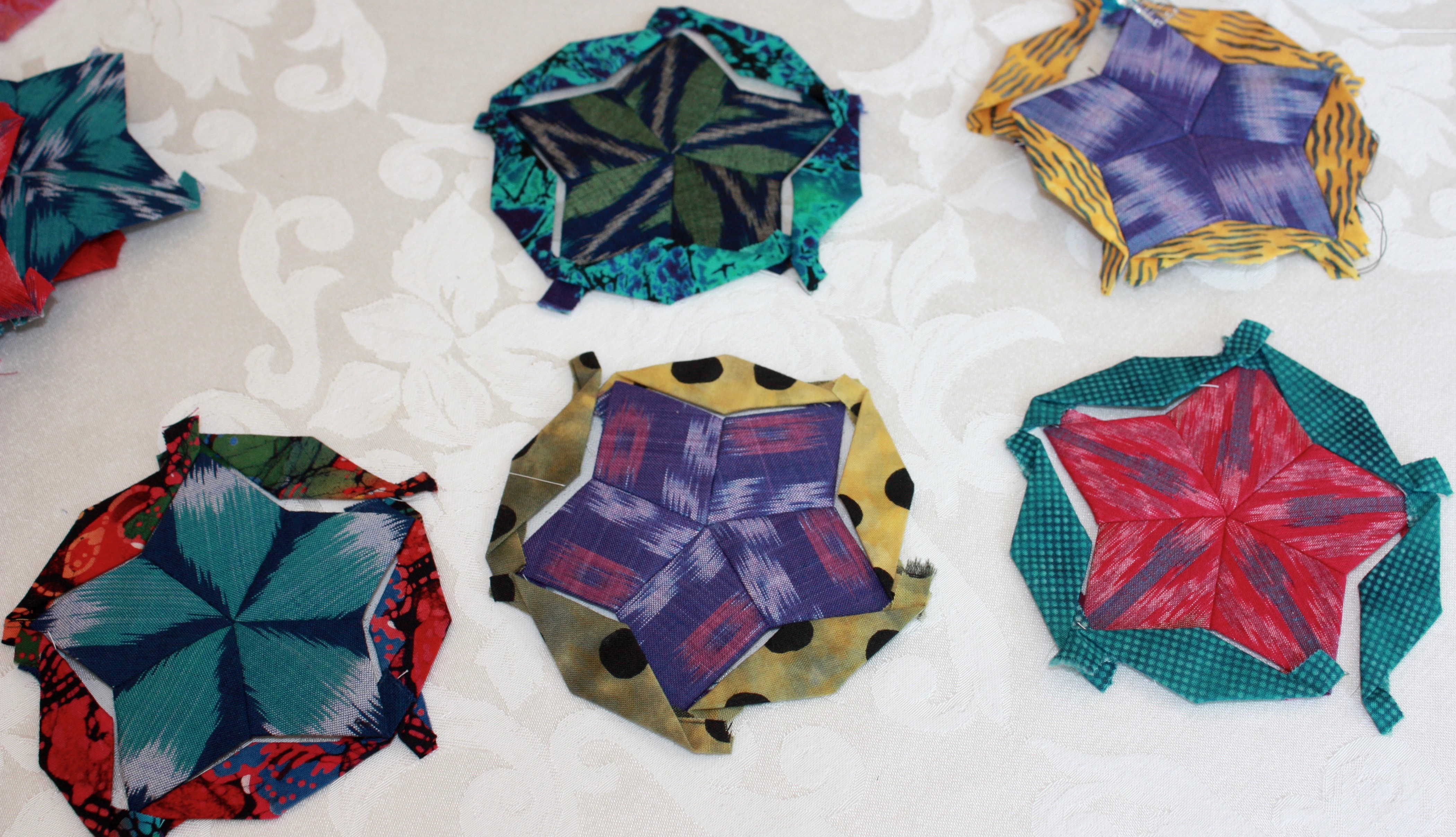 Round three, a ring of ten hexagons, is actually surprisingly fun to sew together.  I am using hand-marbled fabrics that have been hoarded for YEARS (too "special" to use?).  I "fussy" traced and cut each hexagon to be able to play with the movement of the colors within the shapes…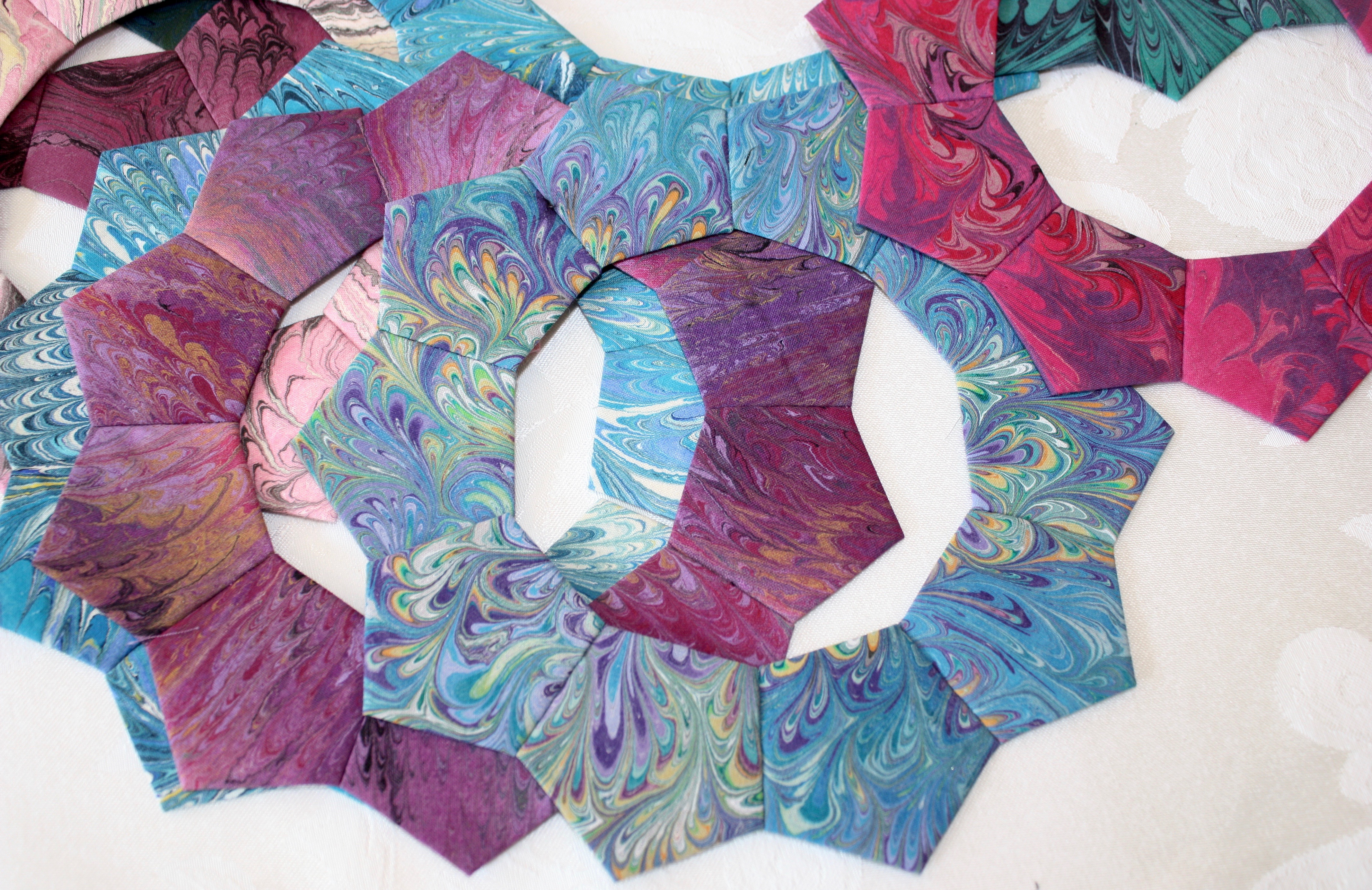 Changing in and out the center stars is entertaining…have made very few "commitments".
Round four is a somewhat? intimidating ring of stars and diamonds.  This is when the construction of the rosette begins to get "interesting" (challenging???)  There are SO many variations possible in this row.  I really like the stars, though.  So not sure how much I will play with other possibilities.
To tally up my progress:  I have sewn together all of the 37 star centers, plus about ten more.  I have stitched most of "round two"; still have the "color" ones pending.  I know I will have far more than I need.  Maybe they can be used "here and there" on the border or the back?  About half of the pentagon rings are stitched.  I am beginning to wonder if having them all be made of marbled fabrics will be "boring", or, if "boring" is even possible given this pattern…The star row in the photo above got plopped down on a "pink center" as stuff got pushed aside to make space to work…and it POPPED!  Stopped me mid-shove.  So, am considering that.  The last thing one wants to do when paper-piecing by hand is to have to rip anything out.  This is a quilt that requires COMMITMENT!
Which brings me to the question under-laying this post.  The way I have been working on this quilt is entirely unlike my usual process.  I like to make way too many of the chosen block/motif; to play with colors, stick them up on the design wall, move them around… and, tease the "vision" that inspired the work in the first place.   The Passacaglia is such a dynamic (and, brilliant) design.  But it proceeds slowly: very, very slowly.  It is stitched entirely by hand.  Each piece is traced one at a time to make the most of a fabric's print or color; and then, pressed.  (I baste by hand, and the iron makes that work so much easier.  I know the current wisdom says "glue-basting is fine";  but, I just can't go there.)  The basted components are then hand-stitched together with  very small, and close overcasting stitches (making them extremely tedious to "un-sew").  The goal is for very even stitching that doesn't show on the front (a worthy goal, at least).  As the rings around the center star begin to radiate out, the number of pieces (and, pieced pieces…those little stars???) grows quickly.  By the final rows one might be tracing, cutting, pressing, basting and stitching together  more than 60 shapes to complete the ring.  How much experimentation does that process encourage?  What if I "guess wrong"?   More to the point, will it still be "fun"?
The jury is out.  As Jerry Jeff sings, "sometimes you have to trust your cape".  Still flying; still playing…just a bit more thoughtfully.