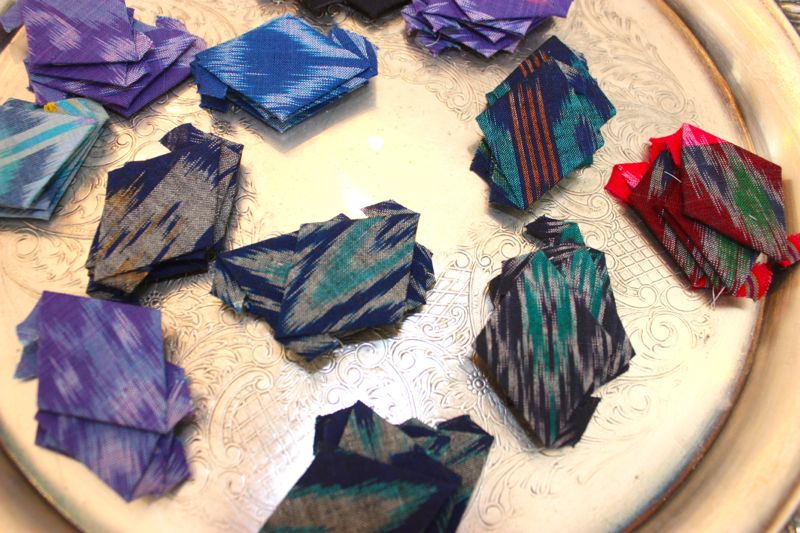 As a crew of men chip the stucco off my house, piece by piece, I have retreated to the relative quiet(?) of my bedroom on the far end of the "project".  Every window in the house is sporting blue plastic.   (Haven't seen the sunset for days…)  Every thing in close proximity to a window or door has been moved away.  And, once again, plastic or drop cloths cover ALL.  Homesteading once again, I think.  This is the last big thing in our "house adventure(?)".  We knew it had to be done going in…and am so glad it is underway…but, maybe wishing we did it first????    A total distraction.
The bright spot in this whole thing (besides the fact that I am not out there chipping off stucco myself) is that it has opened up an opportunity to focus on just one thing.  There is a SINGLE clear flat space in the entire house: the dining room table.  So, I have settled into the Passacaglia.
The proper name of the quilt is actually, The Passacaglia with Mr. Penrose.  It was designed by Willyne Hammerstein, a Dutch lawyer, and is one of many gorgeous quilts in her book "Millefiore Quilts".  Though she did not do so, most who have taken on the challenge of making one are using English Paper Piecing.  A "passacaglia" is a musical term for a series of variations on the underlying bass of a melody, in slow triple time; Mr. Penrose was a mathematician.  The quilt is intricate (an understatement)) and totally engaging.  Google it.  You will see what I mean.
I have never done any paper piecing.  Maybe making this quilt be my first shot at it will be a disaster.  But, so far…it is all good.  I am taking a slightly different approach than most. Using fabrics with repeated motifs is key (again, check the quilts others have made on Pinterest), but I also wanted to use many of the very special fabrics in my stash that I have been saving for years…ikats, hand-marbled cuts, batiks, hand-dyed (mostly vintage, mostly my own)…treasures which for a long time have seemed "too good" to use.   (Sounds a bit silly, right?  That is what I have decided too.  If not now, when?)
This is quiet work.  Hand-stitching.  One can pick up a piece and make a bit of progress.  But, it is all adding up…
To be continued…