It has been one of the joys of unpacking…the re-discovery of a treasure (previously stashed so deep in my pile that it would have never seen the light of day, except for "the move"), and re-visiting that old idea with a fresh point of view…maybe, leading to a possible path to new work?    (These are also the very things that are currently creating a log-jam in the "studio"–the place where no work gets done.)  STILL.
Why?
I don't have a straight-forward answer.  Most of the boxes are unpacked.  I have re-discovered so many treasures, each one fraught with inspiration never acted upon.  I sort and I stack…but I don't "stash"…not yet, and maybe, never again.   At this point it IS very tempting to just put the stuff away…somewhere, anywhere to finally have a clear, flat space to work.
But, instead, I have found that it is far more engaging to just pick something off of the pile and "play" with it.  Hence…the envelopes!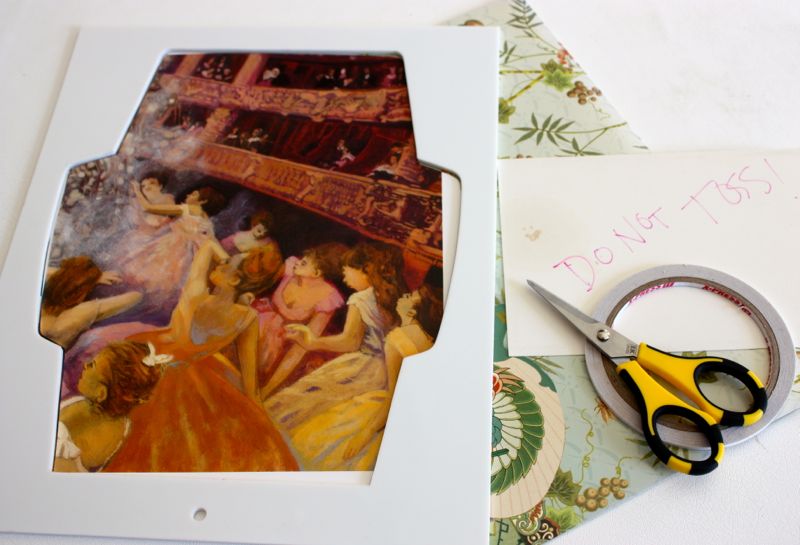 I bought the template years and years ago.  Found the tattered, but oh! so charming children's books over time.  Got the "ELLE Collection catalog for a quarter at the Goodwill. Took them to the beach a few weeks ago, after all the frenzy of the holidays.  Laid it all out on the table…and, played.  One has to admit, the envelopes could be useful…but really, it was all about the play.  Making them was just plain fun.