It has been a long slog through the "detritus" on the studio floor…the table…the windowsill…out in the hallway…this is the "tough stuff"…the things I truly want to keep close at hand: newly re-discovered…many, many treasures that will surely inspire NEW work… but which refuses to get "categorized" and then…stashed…  I want a clear table to work on (one can dream, right?).   Ambling through Pinterest has been a sanity-saving respite from "organizing".   In the random way that one gets inspired, along with my current activity of winnowing through my stuff, I encountered "dryer balls"…and, one thing led to another…
Over the years I have bought odd skeins of yarn out of the "clearance bin".  The original purchases were meant to be "doll hair", and then, later, for "texture" in other fiber work.  Never aspired to be a knitter, so I rarely bought more than one of anything.  As many artists  know (and probably others, as well), it is much more fun to "imagine and buy", than to "work and use"!  And that is how stashes get out of hand…which after 20 years, was definitely true in my case.  I am NOT a knitter…why did I have SO MUCH yarn?
So back to the dryer balls.  "Made of wool"…"no more dryer sheets"…"saves energy"…hmmm.  So, I winnowed through my stash, pulled out all of those skeins and odd balls that I was certain were 100% wool (roving was recommended in the "pin"), and started winding balls…  I admit, it was fun finally using those lovely yarns… and a somewhat mindless activity…playing with colors, always my favorite thing.  Yarn changes were easy.  I simply started wrapping the new yarn over the previous one, being sure to catch the end of the first securely.  With the final wrap, as the yarn grew short, I threaded a large-eyed darning needle and secured the last foot or so, by stitching at intersections, burying the spans between them in the ball, itself.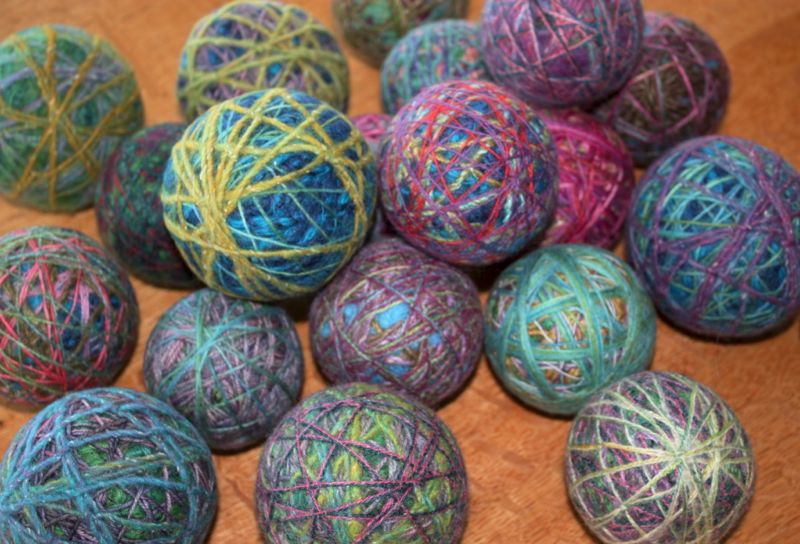 I pulled my trouser nylons out of the trash (had just thrown them out the day before…didn't like them…was NEVER going to wear them…had been cleaning out that spot too…serendipity!)  Then I carefully stuffed and knotted the balls into the stockings.  Tossed them in the washer with detergent and very hot water–(felting requires soap, heat and  agitation). Then, ran them through the hottest cycle in the dryer.  (The noise was tough to take…so I eventually threw a couple of towels in there too.  Figured they might actually aid in the felting process.)  When I untied the first ball, it did not seem to be completely felted (the outer threads weren't totally secured) so I repeated the entire process.  I eventually started throwing in my regular laundry as well…
In the end, most of the balls took at least three passes of the washer/dryer process to get completely felted.   Opening them up was a bit like "Christmas".  I like them…they are far more "fun" than a dryer sheet.   Now, I just have to give them a "test run"…they might actually work…