My re-entry home was tough…but, it always is.  My kids go the extra mile to make me feel special whenever I visit…yummy dinners (which I don't have to plan, shop for, or cook), intriguing side trips (no need for Siri), and, a cozy spot to read or work (on whatever thing my little heart desires)…I definitely need to visit far more often!  Funny how all the problems left behind are still here when I get back home.  Where is that Dust Fairy???
It IS back to "reality"…though things here have been improving.  More and more of the dust tsunami is gone; the tile guy has been making real progress; and, the freezer may soon once again work…  Winter is OVER.  Spring has arrived.  And, the "traveling" projects fared pretty well.  So, this is my theory.  At home, one can get so wrapped up in the "must-do's"…there is no time for "what if?"   Getting away from the day-to-day, and working on just a few activities can truly help one focus.  There is a lot of unscheduled time…random moments of pick-up work can turn into true progress.  There is time to think, and time to act on the idea without the distraction of duty.   I had such fun just "playing" with my stuff.  So here is how it went:
THE "SOPHIE" SCARF…
I think I finally made a bit of a plan for my "Sophie" scarf.  Haven't decided yet if it is simply going to be a grid of "circle in a square" motifs (that could be very colorful, low risk, low stress), or a more complex layout with bands of squares, big and small, separated by stripes of circles.  The latter plan sounds much more interesting, and truly appeals, but it will be a construction nightmare (maybe another trip should be in my plan just to work this out.)   All would have to be assembled "as I go"…winging it, hoping for the best.  Trusting that random serendipity will be beautiful…hmmm.   I figured I didn't have to decide; I knew to begin, I would need lots and lots of circles…so I happily crocheted them:  many, many circles…playing with both yarn and color combinations.  (By crocheting with two strands at a time, I can increase my color variations almost exponentially…definitely, a "Sophie" strategy.)  The caveat, though, is that "lace weight" is a somewhat loose term as far as yarn goes…resulting in circles of various sizes…combining yarns can be somewhat equalizing…but only if that is the driving factor in pairing choices…a concept I can appreciate…but for me, the choice based on color will always win…I may regret it…but, right now…that is far too much worrying for a "travel" project…
Dreading dealing with all of the ends, I decided to weave them in as I go…This has turned out to be a rather "zen" kind of activity…good thing, because the "ends" tend to be a bit endless…
THE SWITCHBACK SCARF with the undecipherable directions…
Took my balls of Noro sock yarn…ready to go.  Kate sat down with me the very first night (good daughter that she is), and showed me how to get started…(tried and tried to understand just what those written instructions were telling me to do)…and, GOT IT…off I went…fun.  But, I hated all that orange and brown…what a way to start…after about a foot of crocheting, with orange and orange, turning into to brown and gray, I decided to rip it all out.   It is a sad tale…but, one with a happy ending.  I decided I could be "the boss" of my yarn.  I cut out the orange and the brown.  I started again.  The colors played out as I worked…(even a bit of the orange)
Not quite done with it…and, there is trouble lurking in the last bit of both balls…
more orange…and after that lovely bit of lavender, I know what is coming…gray and then, that brown.  Still the boss of my yarn balls, I think I am going to quit while I am ahead, and finish it off…if I could find my instructions…
(Have to admit, it has been so much fun working with the colors as they come off the balls…I bought another skein in a different color way!!!…no brown or orange though… another travel project???
THE NEVER-ENOUGH TIME FOR WATERCOLOR JOURNAL…
The paints were especially engaging.  That three-hour time difference…getting up at 4 in the morning?…never minded it…that just meant more time to mix pretty colors.  Each session, I would pick a color to be "the star"…and I would mix and muddle the others in however I wanted.  So engaging…until disaster struck.  I had packed up my box and put it in my suitcase to move from one lucky kid to the other…the paints were still wet…ALL slid into a muddy mess…SO GLAD I had it wrapped in a plastic bag, but, I got a real understanding of what Alizarin Crimson can do…
The idea of washing it all down the drain seemed far too extravagant…plus, not very ecologically sound (been to California, lately?  just getting rid of "garbage" can be a full-time activity).  So, instead, I started fiddling with my "custom" mixes…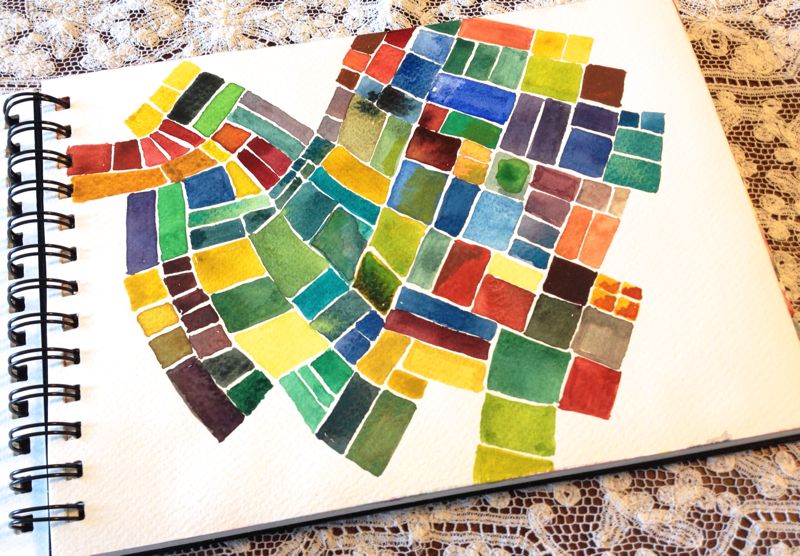 And, still had fun…even more fun, really…
That is it.  That is "what I did on my Spring vacation"…