It has been a grueling few weeks…my painting project was interrupted by the "tile demo disaster"…that's as in "demolition".  What a lot of work.  We chiseled up the tile down the hallway, into the pantry, into the "music closet", into the bathroom…onto the landing to the basement, bit by bit.  Once the tiles were gone, it was pretty clear that we needed to take up the backer board as well…more chipping…some with a hammer and chisel…some with a tire iron and sledgehammer.  All had to be put in boxes…boxes and boxes…a BIG job…and, a very dusty one.  The dust got everywhere; even upstairs.  We cleaned it up.
Then we started in on the dining area.  We were dreading this one (but for entirely the wrong reason, as things ended up).  The floor in there is heated with pipes running in loops encased in several inches of concrete under the tile…so, we were thinking that getting the tiles separated from the concrete without causing leaks to spring in the pipes would be "tricky".  The tiles popped right up!  Easy…little did we know what was coming.    Left behind were the concrete ridges of the thin-set…which, in the end (after much ineffective, tedious chiseling…inch by inch) had to be ground away with a monster tool…And, even though we thought we had set things up to capture all the dust with lots and lots of strategically placed plastic sheets and drop cloths, it turned out to be a TOTAL dust bomb.  At one point I couldn't even see John working two feet away.  And, guess where all that dust went?  EVERYWHERE.  Even found some in the refrigerator…If it was out (first floor, second floor, didn't matter) it got dusty…really dusty.  Pretty much every dish in every cupboard had to be washed…and that was just the easy part.  Days of vacuuming and damp mopping…If you are an optimist, you could say that at least I now have a VERY clean house; if you are not, you just know there is STILL dust lurking, yet to be found.  And, I haven't even been able to think about dealing with the studios…ever tried to dust buttons? dolls? fabric?
So, that is my excuse for "no work…no blog".  But, I have literally, left the dust behind for a few days, visiting my kids…and I brought along a few projects…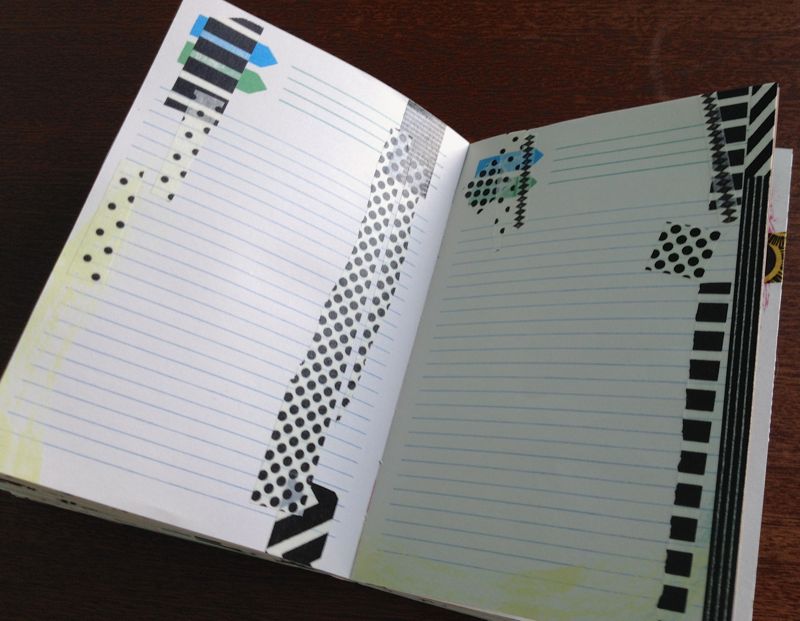 I found this little journal on the sale shelf at Anthropologie, thinking to keep it in my bag to record odd thoughts as I was out and about…I was sick two weeks ago and not feeling like doing much…I dusted off my tray of washi tape (really, I had to dust it off!!!)…sat in my chair and played.  I made the book "mine"…maybe, now, I will actually use it…I packed it in my suitcase…have found a great new artist (thanks, Paula!)…wrote her name down…
Kate and I found this funny scarf in a yarn store at Christmas…tracked down the pattern, found the yarn…she finished hers (of course).   I couldn't make sense of the pattern.  I brought it with me…got a lesson (Kate is very patient)…and, now, I'm on my way!  The original pattern calls for crocheting from both ends of a skein of Noro Taiyo sock yarn (very long, unusual color ways–can't believe I am actually crocheting with ORANGE yarn, but things are looking up…the purple is next!)  I wound my skein (working from each end) into two (somewhat) equal balls.  The idea is that you work an inner and an outer loop from one ball, drop it, pick up the other and do the same…the colors sort of wend out of the balls in unexpected combinations…totally fun (now that I know how to do it!!!)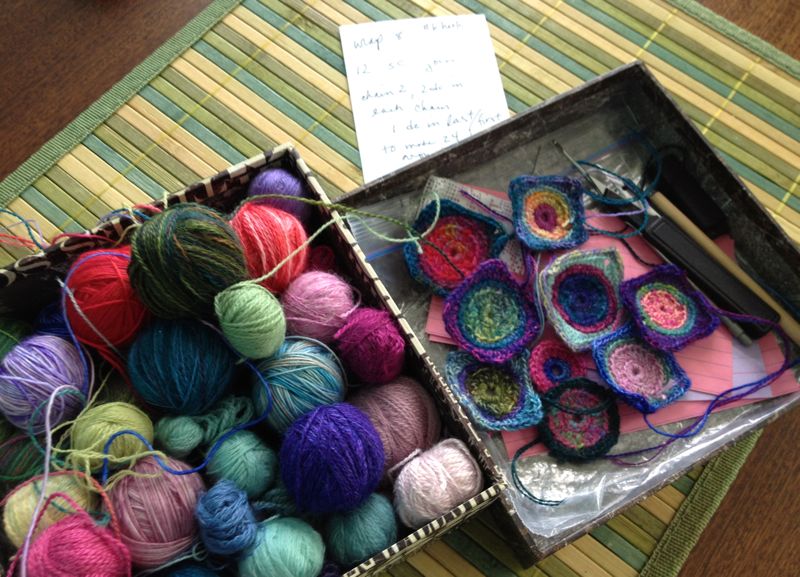 Am thinking to make another "Sophie Digard"-esque scarf…so I packed a little box.  I want to make "a circle in a square"…but not a "granny" one.  That doesn't seem like an original thought, but I looked and looked for directions…and, found none.  So I decided to try drafting my own block (never done that before).  This is definitely "a work in progress"…and probably will be, for quite a long time…  It is even more of a challenge because "lace weight" seems to be a rather loosely used category in the yarn world.  I crochet with two balls at a time so I can have even more "colors" to work with…but with the variations in the thicknesses of the yarns, my process creates blocks of varied sizes…which leads to alternative adaptations to the pattern…and, another trial block…definitely, not a solved problem…but still, I truly love playing with all those colors…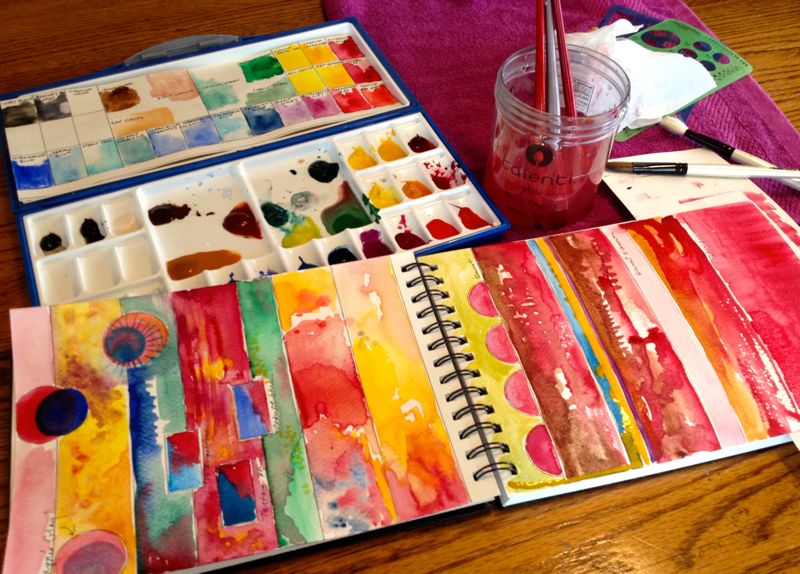 And, last but not least…I brought my watercolors.  I treated myself to these before we started all the moving business.  Never got to them.  In a flash of optimism, I  tracked down a palette box…and, never got it loaded.  I did put together a little tin of half pans to take to Amsterdam (why do I always think I need a project when I travel??)  But, "it was too cold to sit and paint"…"no benches"…lots of excuses.  I pulled out the "real" box last week (dusted it off) and filled it up.  As I did that, it occurred to me that I didn't even know what  some of these colors were…Cobalt Green…Payne's Gray…Tartan Blue…so I packed them, with a few brushes and a watercolor book to simply "play": one color at a time…this is the Anthro Red page (a lovely, warm, mineral-like red, in case like me, you didn't know…)   Quiet fun.  Engaging…
That's it.  Not sure what the "take-away" is here.  I am having a "vacation".  My kids like to take me out to see things.  We "shop", in a random way, especially in used-book stores and thrift shops.  We eat out at great little restaurants.  We sit around, drink wine, talk and laugh about things.   And, in quiet moments, I treat myself to some play…it is all good.