Like many, I assume, there are things I love doing for the holidays, and things that get done because others in my family love them, or would sorely miss them, if they didn't happen.  Given that I am having Christmas dinner for seventeen in a room that just barely got finished (dark cranberry red has given way to shell pink; wainscoting and trim, a bright, soft white), doing "my things" for Christmas has been a challenge.  But, my ornaments are finally DONE!  Cut out and sewn "on the fly" between painting and unpacking sessions… stuffed with polyfil on the plane to California… beaded in the early mornings with coffee while everyone else slept, during our visit…"feathered", over the last week at odd moments…"winged", the last few days…signed and dated yesterday…DONE!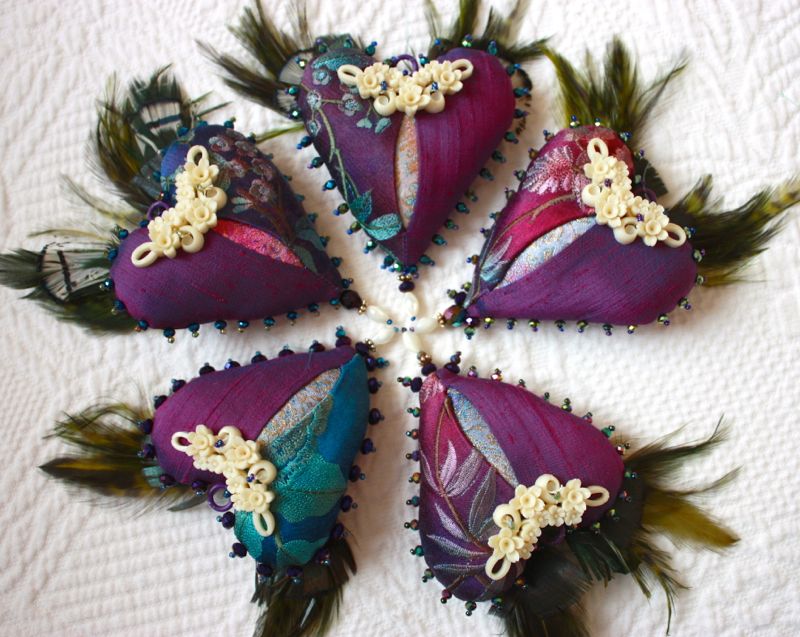 I like them.  The inspiration for them was a small scrap of fabric that came in my box of shibori silk scraps from Carter Smith.  It was an oddly-shaped piece of  embroidered brocade that went from rose through violet, to blue.  With strategic arranging, and choosing to use a scrap of a lovely red-violet shot silk for the other half of the heart, I was able to make twelve.  That is a good number.  My kids love getting "first pick"; three, for family, a few for random acts of gifting…and, hopefully, several left, at the end for me.
I love that each heart is different and yet, part of a collection.   Carter's brocade set the scheme; the purple silk was from my stash; the vintage metallic inset, a victim of the randomness of an ice-dyeing session… voila…twelve hearts, each related, but unique.  The cut glass bead  embellishments were also from my stash.  To travel, I had to "pre-edit".   I took two small plastic containers, each with six pie-shaped sections with snap-tight lids.  I filled them with some sparkly violet, green and multi-metallic larger beads for around the edges of the heart, some seed beads to anchor them, and, some oval beads from an old mother of pearl necklace…and hoped for the best.  In some ways, the limitations inspired some unusual pairings.  That was good.
Once I got home, figuring out what to use for "wings" was a bit tough.  I guess the choice of feathers (now that the hearts are finished) seems obvious!  But, it took me a while and some grazing among my stuff to settle on them.  That green feathered hat gave its all!  It looked like a "ratty" old thing, but it yielded many, many beautiful feathers: some, striped, some a bright green, others, various shades of dark green…all, just the perfect size.  They were gathered and stitched into wings, then attached in pairs to the back of each heart.  Small sequinned disks (bought in a street market stall on my trip to Amsterdam in October) and a dome-shaped brass finding anchored the wings in place…
I am not sure if others find these ornaments to be "odd".  For me, they are the result of a creative journey which happens during a special time of the year.    I hope you have traditions that make your holidays special too.  Enjoy.