Stolen moments and sheer willfulness got the "traveling" bag done and shipped off…ready for its first trip. Hopefully, it will be "just perfect".   I truly enjoyed mucking around in my stuff once again, trying to figure out how to make the thing and then, how to make it special.  Couldn't find much more than my most basic tools…scissors, pins, a needle, thread, and, the very important seam ripper!  Had to scrounge for "stuff" beyond the things my daughter left behind when she visited a few weeks ago: the penguin buttons, the patches from Korea, the dragon…I got lucky and found my trays of mother-of-pearl and ivory-like treasures.  (SO glad I labelled the boxes as well as I did and I could have done better still…I am NOT going to even think "next time"!)  Who would have thought so many would still be taped up six months later?)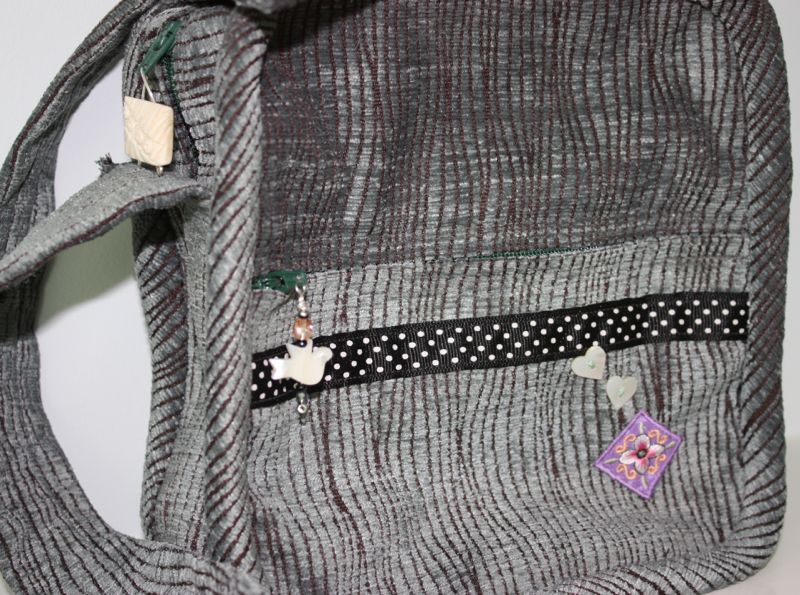 Went with the black and white theme suggested by the penguins…added some polka dot ribbon I found in a plastic bin (a real advantage there…I can see what is inside!)  Lined the pocket with a great black and white print.  I tried to make the "private" side of the bag under the flap as interesting as the "public" side…without overdoing it (keeping my "client" in mind).  Under the flap is a quiet message just for my daughter.  In the zippered pocket is a good luck coin.  It might have been especially fitting if I could have found my old Chinese coins…but in a way, secreting the lovely old French coin there, was even more so.  We found it in a Paris street market on the trip that started this whole "traveling bag" story…AND, it is a reminder of a really good day.
The zipper pulls were a bit of a problem.  No tools.  No headpins.  It was totally extravagant to use the silver wire…but it was all I could find.  Deadline…tick.tick.tick.  They may have to be replaced at some point…but that will be a problem for another day.  TODAY, I am feeling pretty good.  This was fun.  And, hopefully, the bag will do its job well.  Bon Voyage.